Yearly Fees
$150 Application Fee (waived for re-enrolling students if application is received by January 31st)

$300 Campus Fee, paid annually, per family
2019-2020 Preschool Tuition:
Preschool class is determined by child's age as of September 1st, 2018

Students must be potty-trained for entrance in any class other than Pre-K2

Preschool Hours 8:15am-2:00pm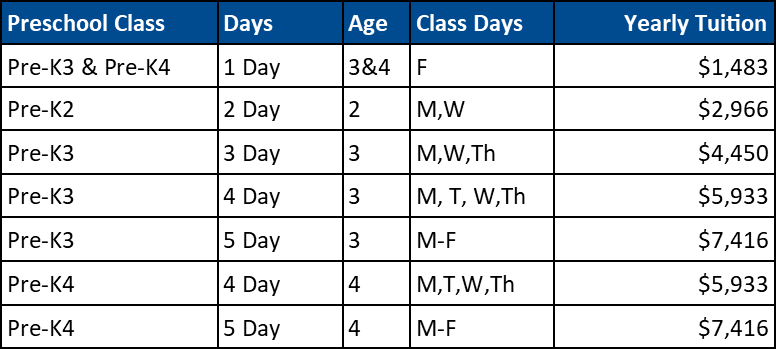 2019-2020 Lower & Middle School Tuition:


Enrollment Priority Policy
Priority Enrollment begins January 1 and extends through January 31 for the following:
1. C
urrently enrolled Crown of Life students
2. Siblings of currently enrolled Crown of Life students
3. Crown of Life Church Members
4. Members of other Lutheran Churches
Open Enrollment
Open Enrollment begins February 1st. From that point on new student applications will be accepted.
Discounts
Payment in full. Payment directly to the school by check or cash by April 15, 2019, or at time of acceptance, will entitle you to a 3% tuition discount.
Multiple Child. The first child, with highest grade level, pays full tuition. The second child will receive a 5% discount with the third, and all other children in the family, receiving a 15% discount.
Church Membership. Families who are active members of Crown of Life Lutheran Church receive a 25% discount.
Please contact office staff for total tuition discount calculation.
Payment Plans
Flexible Monthly Payments. All monthly payments will be managed by FACTS Tuition Management by automatic bank withdrawal or by credit card (convenience fees apply). The final payment is made in February. FACTS offers convenience, flexibility and secure on-line access. The link to apply is located under Tuition Management on the right.